Please Visit Our Online Store

Deprecated: Function get_magic_quotes_gpc() is deprecated in /home/customer/www/sisterdona.org/public_html/libraries/f0f/input/input.php on line 102


I received quite a few inquiries regarding my arrest and three and one half years imprisonment. I thank you all for your support and concerns. I partially resume my activities and improving from the damages incurred. I appreciate all the prayers sent to me and I send my blessings in return. I am repairing the damages sustained in three and one half years with my street collection method which I do everyday and for long hours.
The facilities, I am responsible for, in Haiti depend on this daily activity.
I do not have the time or the proper equipment to write directly; I am being assisted by a group of volunteers that are spread in different states and even countries, together with people whom I have been close to for years. I am also focusing on finishing off a book, but it is extremely difficult at this time.
You can view the damages to the facilities at the headquarters of Soeurs Redemptrices de Nazareth as well as our effort to make the repairs in this virtual tour.
I offer a reflection of my introspection of these unbearable three and a half years taken from life.

On the occasion of the second anniversary of my release,  I would like to thank and bless some individuals, families, associations, and businesses for their crucial support. I offer you, below, English an Creole transcripts of a press conference given in Haiti shortly after my arrest in 2012. This press conference was a reading of official Haitian government documents on the matter.

Press Conference English Transcription
This is the preliminary information dated June 18, 2011. That person has been arrested, the second authenticated compilation is in my hands, in the interrogation of the person, that we reserve the right not to name, bluntly declared, that the nun in charge, owner of the orphanage, Sister Dona, is not closely or remotely involved in the kidnapping of the minor, Rafael Chenet. Neither are any other employees or the Administrative Director, Ms. Efonie Béatrice.

In short, according to the declaration of the man, I will not mention him by name, no one at the orphanage is closely ore remotely involved. The fact that he confessed that he is the culprit in the kidnapping, with the complicity of a man who is an employee of the Minustah.

In the case of Sister Dona, it's been a year since we have been following it at the Peace Court of Kenscoff. On June 5, 2011, a child at the orphanage was kidnapped in the orphanage, a minor named Chenet Rafael. He was kidnapped by a previous employee of the orphanage. We reserve the right not to release his name, as instructed by the judge overseeing the case. After the kidnapping, the Kenscoff Peace Court and the Kenscoff Police arrested the man who was transferred along with his dossier to the prosecutor's office in Port-au-Prince on June 18, 2011.
As soon as he arrived at the prosecutor's office, he was released, for unknown reasons to this day, even though they were supporting evidence found in the SMS of his mobile phone showing that the kidnapping was done with the collaboration of an agent of the Minustah (this is the United Nations' police force in Haiti) , who also intervened in his release from the Prosecutor's office. Let it be known also that the employee of the Minustah is still working there. This man lives in co-habitation with a Canadian woman. This woman wanted to adopt this child. So the man who kidnapped the minor child sold the couple the child for $ 2,000.00 US. The reason we are talking to the press today is that the criminal law is in strict interpretation, the criminal responsibility is personal. You cannot commit a criminal act or an offense, and someone else pays for your transgression.

 It is for this purpose that we ask Government Commissioner, who is in charge of prosecution, to put all the data in front of him together and pursue these people..
Press Conference Creole Transcription
 Sa sé infòmasyon préliminè ki daté 18 jen 2011. Ke moune ke yo te arété, mem gin dezyèm ekspedisyon nan men mwen,  nan intewogasyon a, se sa moune la, ke nou rezèvé dwa pou nou pa mensyone non li,  déklaré briskéman, ke Sè responsab,  ki propriétè òfelina, Sè Dona, pa patisipe ni nan byen lwen ni tou pre nan anlevman minè Rafael Chenet.  Mem jan ak lòt anplwaye oswa mem Direktè Egzekitif la, Madam Efonie Béatrice.
An rezimé, dapre deklarasyon moune nomé a, mwen pa pral mansyone non li, pa gen youn nan responsab  òfelina a ki  patisipe swa tou pre oswa byen lwen.  Lefèt ke li konfese ke li se otè kidnapin la nan konplisite ak yon  mesye ki se yon anplwaye nan Minustah a.
Ka Sè Dona, se yon bagay ki gen 1 an ke nou ap swiv ak  li nan tribunal lapè Kenscoff. Nan 5 jen 2011, gen yon timoune nan òfelina que yo kidnape an dedan òfelina a, timoune la poté non Chenet Rafael. Li te kidnape pa yon ansyen amplwaye nan òfelina a. Nap rezève dwa pou nou pa mensyone non li pour ke jisteman nou pa entravé ak enstriksyon jij la. Apre kinapin la, tribunal lapè Kenscoff et lapolis Kenscoff te rive arete mesye sa  kote yo tou voye dosye l' nan biwo pwosekitè tribinal nan Pòtoprens nan 18 jen 2011.
Osito ke li rive nan biwo pwosekitè a, yo lage mesye,  pou rezon enkoni jouk jodi a, byen ke gin prèv ki sipòte, nou jwenn sou telefòn mobil li yon SMS ki di ke kidnapin la te fèt ak kolaborasyon yon ajan Minustah ki entèveni pou li. Se mem moune sa ki an dedan Minustah a ki fè yo lage li nan biwo prosekisyon a. Fok mwen di nou tou ke moune ki amplwaye nan Minustah a, jiska prezan ap travay an dedan Minustah. Misye sa ap viv an konkubinaj ak yon fanm Kanadyen. Dam sa te vle adopte timoune sa. Se konsa moune ki te kidnape timoune nan te van li pou $2000.00 ameriken a koup sa. Rezon ki fè jodi a nou oblije pran laprès la, paske  lwa kriminèl la se nan entèpretasyon strik, responsablite kriminèl la li pèsonèl. Ou pa kapab yon moune ki te komèt yon zak oswa yon ofans, epi se yon lòt moun ki peye pou po a ki kase.
 Se nan sans sa a ke nou mande komisyonè gouvènman a,  ki se chef nan pouswit jidisyè a, se pou nou mete tout done yo devan l ' pou ka pouswiv moun sa yo.
Details

Category: Messages From Sister Dona
To my parents
To my friends
To my Supporters
To my fans
I decide in this fateful moment to say thank you from the depth of my Heart. This date is henceforth a part of the history of my life; this Tuesday, June 19, 2012, the day of my arrest. I thank all those who fought to shorten my stay behind bars; even when their efforts could not help but spend 3 years 6 months and 3 days in prison. Know that your energies went through me despite the distances and strengthened my courage.
. Thank you for the trust you have had in me and that you still keep
. Thank you for the moving welcome you give me on every corner, especially in the Diaspora.
. Thank you to the young people who stay and remain proud of me
. Thank you to these women in prison whose sighs I shared
. Thank you to everyone who came from all walks of life to visit me behind bars
. Thanks to the circumstances that led me behind bars and allowed me to continue my mission to the prison.
The sufferings of prison cannot prevent me from continuing to testify Love.
I offer these 42 months of prison so that justice finally finds its place in our society.

Sister Dona P. Bélizaire
Fondatrice des Soeurs Rédemptices de Nazareth
Former prisoner of the Pétion-Ville Civil Prison
Done this Friday, June 17th, 2017
For contact: email:
This email address is being protected from spambots. You need JavaScript enabled to view it.
Details

Category: Messages From Sister Dona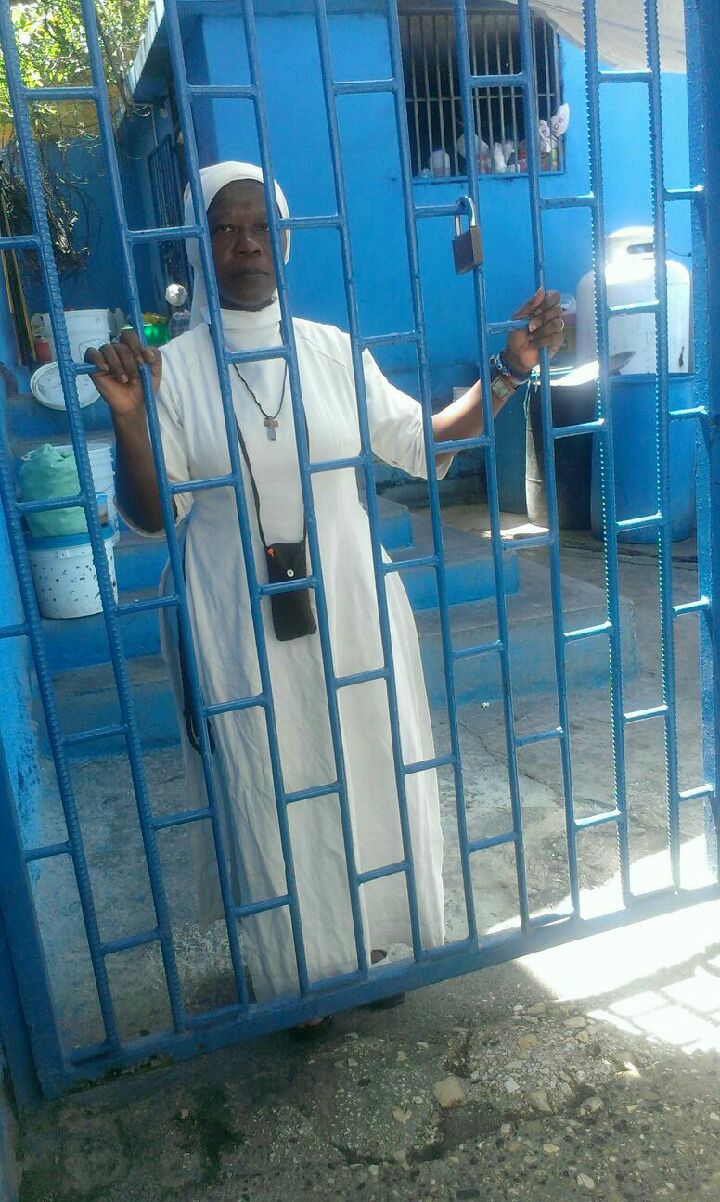 Haiti - FLASH : After 42 months in prison, justice recognizes the innocence of Sister Dona
19/12/2015 10:48:04
Thursday, Sister Dieudonne Pierre Bélizaire, aka Sister Dona, Founder of the orphanage Sister Redeemer of Nazareth, located in Kenscoff 68 was acquitted of charges of kidnapping, child trafficking and criminal conspiracy in a criminal court without jury assistance to the Palace of Justice of Port-au-Prince and the tribunal ordered her release.
Details

Category: Messages From Sister Dona
Read more: After 42 Months of Unjustified Incarceration, Sister Dona Was Freed
Homily Second Sunday of Easter (April 14,  2013)
Goodbye Monsignor François Marie Wolf Ligondé. The news of the passing of Monsignor Ligondé, the first Haitian archbishop of the archdiocese of Port-au-Prince, shows us once again how much our pilgrimage on earth is ephemeral and the importance of giving ourselves completely to God because all is vanity.
Monsignor Ligondé, one of the great figure of the Episcopal Conference of  Haiti in the 70s and 80s, is reputed as a very marian archbishop, a very sincere man of the church.  He had the misfortune to exercise his ministry during one of the hardest periods in our history. He had the misfortune to exercise his ministry during one of the hardest period of our history. The fierce dictatorship that raged in the country weighed heavily on his ability to act.  He sacrificed himself to save the Church of Haiti from the abuse of a monstrous and threatening regime.  No one knew how to understand it.  He did everything in his power to encourage vocations to the priesthood and to assist the priests of his diocese. Father  Garcia Breneville, former Dean of major seminary Notre Dame Haiti, in an interview with Radio Télé Solidarité told us that the late Monsignor Ligondé is a man passionate about God and the Church, a bishop who has a great love for the Blessed Virgin Mary and his Haitian brothers and sisters. It is not surprising that he died on the day the Church celebrated the Feast of the Incarnation.  As to Father Désinor, General Manager of Radio Télé Soleil and spokesperson of the Archdiocese of Port-au-Prince, he tells us that the late Monsignor Ligondé was a model pastor for the priests of the Archdiocese of Port-au-Prince, and the Catholic Church of Haiti.  He added that Monsignor Ligondé is the Father of the Archdiocese of Port-au-Prince, emphasizing his great love for the peasants of Haiti.
It should be mentioned that the death of Monsignor Ligondé is a very hard blow for Sister Dona Bélizaire, his secretary and founder of the Sisters of Nazareth, and her congregation.
His Excellency, Bishop Guy Sansaricq and Father Yvon Pierre, in union with the National Center's staff, extend their sincere condolences to the family of Monsignor François Ligondé, the bishops and archbishops of the Episcopal Conference of Haiti, to the people of God of the Archdiocese of Port-au-Prince.  May God welcome Bishop Ligondé to his paradise!
Brother Buteau (Brother Tob) for the National Center

Source: https://solidariteflash.wordpress.com/category/homily/
Details

Category: Messages From Sister Dona
You are here:  

Periodic Announcements

Messages From Sister Dona